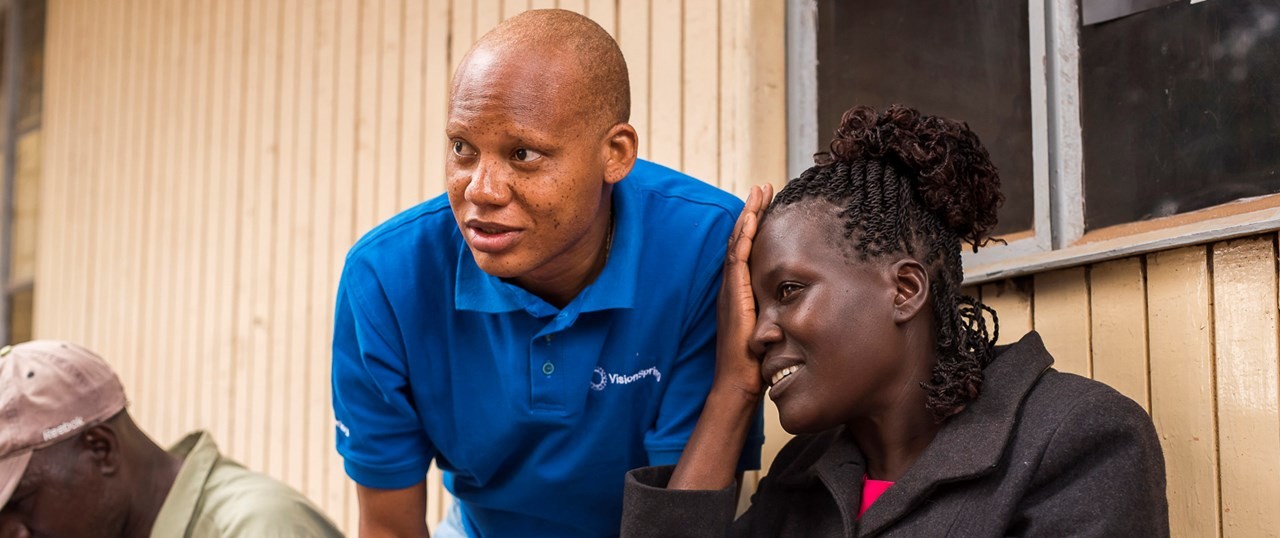 Joining a Social Enterprise
Are you a changemaker who wants to play a pivotal role in restoring vision for millions of people in low-income communities around the world?
Do others describe you as determined and entrepreneurial? Are you looking to use business practices to create social impact?
VisionSpring creates access to affordable eyewear, everywhere, because clear vision creates opportunities for increased earning, learning, safety, and civic participation, and improved quality of life. As a social enterprise, we hold mission and business goals in constructive tension. While we judge our global performance on social impact measures, our focus on sales and revenue targets ensures we grow effectively and efficiently.
If you're coming from the private sector, this may be the first time you are considering serving customers who live on less than $4 per day. If you have spent your career in the nonprofit sector, this maybe the first time you are considering entering a sales-driven organization. All backgrounds are welcome. We're committed to growing and learning together. We can't wait to see how you will apply your skills and expertise to transforming the systemic dysfunction of an optical market that has failed to deliver eyeglasses—a 700-year-old technology—to 2.5 billion consumers in need of vision correction.
Our core values center on helping others to do well
Customers. Partners. Colleagues.
Advance
equity
Bridge the visual divide. More access, more acquisition for more people.


Create opportunities for advancement and participation


Empower women and girls


Act without ego
Be transparent.
Reveal hard truths.
When things go wrong, understand and share why.


Make data-backed choices


Declare intentions


Earn trust. Build confidence.
Learn
together
Be a student of our customers, markets and ecosystems.


Approach with a "beginner's mind"


Apply and share what we are learning
Constantly adapt.
Relentlessly improve.
Take calculated risks


Build on evidence


Be determined. Find solutions.


Iterate
VisionSpring Hiring Process
We'll be frank: our hiring process is only fun for people who really want to be a part of the VisionSpring team. We hire thoughtfully.
Be prepared for multiple interviews, a character assessment, and a written exercise. We typically ask finalist candidates to present their work to the hiring committee. At the end, we'll know if you have the skills, experience, and character to be successful at VisionSpring, and you'll know if we are the kind of place that will have you looking forward to Monday mornings (or Sunday mornings if you are on the Bangladesh team).
The First Questions We'll Ask: Why VisionSpring? Why Now?
If you are motivated by a high-growth environment and want to work with a talented, purpose-driven team, VisionSpring could be the best next step in your career. When you apply, have your story ready. Better yet, float your resume to the top of the pile by submitting your application with answers to the first three questions we are going to ask:
Why does joining a social enterprise to accelerate the uptake of eyeglasses among low-income consumers in emerging and frontier markets appeal to you at this stage of your career?
What challenges do you anticipate you would encounter in this role at VisionSpring? What expertise will you bring to address them?
How will you know if VisionSpring is the right fit for you?
Please limit your responses to one page total. You may incorporate your answers into a cover letter.