Where we have been, where we are going
Founded in 2001 with the goal of reaching and providing affordable, quality glasses to the 2.5 billion people worldwide who need them, we have come far in the years since. Learn more about our past achievements and get to understand our journey.
The defining moment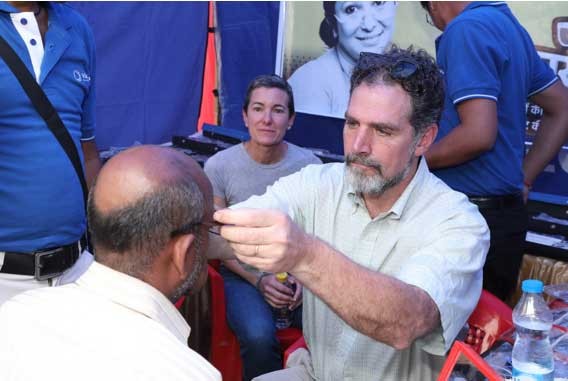 I can trace my sense of purpose and inspiration for VisionSpring to a defining moment when I was 23 years old. While on a volunteer medical mission in the Yucatán Peninsula, I arrived at the project site to find 2,000 people waiting in line to have their eyes checked.
One of those patients was a 7-year-old boy, carrying a book in braille. The boy's family explained he was blind from birth. Yet, as I examined his eyes I observed he wasn't blind at all. Rather, he was extremely myopic—meaning his sight could be corrected with just a strong pair of glasses.
I rummaged up a pair of donated glasses and gently placed them on his nose and watched as his blank, blind stare transformed into an expression of unadulterated joy. He was seeing the world for the first time.
As I provided the boy his sight, he provided me with a keen sense of purpose and novel understanding: the only thing standing between 2.5 billion people and their ability to get an education, earn a living, return home to their families safe and sound at night, and fulfill their human potential is a simple pair of glasses.
And so began my desire to replicate this moment thousands of times over, culminating in the founding of VisionSpring and changing millions of lives across the globe, one pair of glasses at a time.
2001

Our founding

Scojo Foundation is founded and summarily partners with Helen Keller International to launch a six-month pilot program in Andhra Pradesh, India.

2002

Social innovation for creating access

Scojo Foundation launches a new program in El Salvador in partnership with ASAPROSAR, the Salvadoran Association for Rural Health. The program provides loans to female entrepreneurs to start their own businesses offering reading glasses.

2004-2006

Award-winning expansion

Scojo Foundation begins to expand in earnest, opening its first office in El Salvador, kicking off its first partnership in Guatemala, establishing the Scojo India Foundation, beginning its first India franchise partnership, and launching a franchise partnership with BRAC in Bangladesh. The awards also start piling up; Scojo wins a World Bank Development Marketplace award and United Nations Habitat Dubai International award, and Scojo founder Dr. Jordan Kassalow receives the three-year Draper Richards Kaplan Foundation grant and Aspen Institute Henry Crown Fellowship.

2008-2009

New name, same vision

Scojo Foundation changes name to VisionSpring. The newly-dubbed organization becomes the three-time winner of the Fast Company/Monitor Group Social Capitalist Award and wins the Skoll Award for Entrepreneurship. BRAC and VisionSpring scale their partnership throughout Bangladesh. Meanwhile, VisionSpring also launches its first partnership in South Africa.

2011

Headlines and Strategic partnerships

VisionSpring makes news, with its partnership with BRAC garnering a segment on ABC's Good Morning America, and the organization hosts CNN's Fareed Zakaria for a discussion on "Business Solutions for the Base of the Pyramid" in New York City. VisionSpring also opened its third optical store in eastern El Salvador, put 16 mobile screening units on the road in India, and formalized its partnership with Warby Parker.

2012

Reaching new heights

VisionSpring officially sells its millionth pair of glasses, and Dr. Kassalow is named one of the Schwab Social Entrepreneurs of the year.

2013-2016

Surpassing milestone after milestone

By 2013, VisionSpring creates $200 million in global economic impact. Over the next three years it reaches several new milestones:BRAC and Visionspring together provide clear vision to 1 million people in Bangladesh, creates a network of 200 vision partners globally, and providing 100k children and 2 million women with affordable corrective glasses.

2017

Growing global success

VisionSpring drives continued global growth, replicating its Reading Glasses for Improved Livelihoods program in Uganda, piloting pharmacy-based rural penetration model in Bangladesh. To top it off, VisionSpring officially hits $800 million in global economic impact through its work.

2018

Proving the impact

In partnership with Clearly, Orbis, and Queens University Belfast, VisionSpring publishes the results of its PROSPER study, demonstrating definitively that eyeglasses have the potential to significantly boost worker productivity, representing the largest-ever recorded productivity increase from any health intervention. VisionSpring also creates a total of $1.1 billion in economic impact, reaching 5.2 million people to date.

2019

New Initiatives

VisionSpring partners with 10 organisations, NGO's and institutions to create the first ever refractive error free district in Sherpur, Bangladesh. Not even halfway into 2019, the India team reaches the 3 million people goalpost, who now can see well and do well with their VisionSpring glasses.Jordan releases his book "Dare to Matter :your path to making a difference."